Date: September 15th, 2021

Time: 3:00-5:00PM
Location: Zoom Meeting
Speaker: Carolyn McClanahan, M.D., CFP® | Founder of Life Planning Partners, INC
Dr. McClanahan began her career as a physician in 1990 after completing her undergraduate degree at Mississippi University for Women and medical school at University of Mississippi. She completed her residency in Family Medicine at the Medical College of Virginia. After a couple of years in private practice and emergency medicine practice in Richmond, Virginia, she returned to the Sunny South of Jacksonville, Florida to teach at the University of Florida, Shands, Jacksonville. She also worked in various emergency departments in the Jacksonville area.
Finding that most financial planners were mainly interested in managing her portfolio and not in providing the advice she needed, she enrolled in the CFP® curriculum at the University of North Florida. Realizing the similarities between medicine and financial planning, and feeling more empowered by being able to help people plan for their future, Dr. McClanahan decided to make a career change into financial planning.
In addition to working in her financial life planning practice, Dr. McClanahan provides education to financial planners and health care professionals on the interplay between health and financial issues, particularly regarding health care costs, health care reform, aging, and end of life issues. She writes for Forbes, CNBC, Advisor Perspectives and Barrons covering issues intersecting money and medicine.
She was named an "Icon and Innovator" in 2018 and "Woman to Watch" in 2016 by Investment News. She received the "Special Achievement Award" from NAPFA in 2018 for her work in consumer financial education. She also received the "Excellence in Healthcare Journalism Award" from the National Association of Community Health Centers in 2014.
Dr. McClanahan is a member of the National Association of Personal Financial Advisors (NAPFA,) the Financial Planning Association, and the American Academy of Family Physicians. She is quoted regularly in numerous publications such as The Wall Street Journal, New York Times, and the Washington Post. She has also appeared on CNBC, Hardball, AC360, Morning Joe and NPR.
Topic 1: User Engagement Standards to Create Better Client Care and Communication
Good communication is imperative for successful financial planning. Engagement standards set client expectations, shape their behavior, and assist financial planners in creating healthy working relationships with their clients and coworkers. Dr. McClanahan takes you through the process of engagement standard creation and implementation and the important ongoing "keeping of culture" that makes engagement standards so successful.
Topic 2: Implementing Health Care into Wealth Care
Dr. McClanahan helps advisers plan for this unknown by teaching them how to have discussions with clients about health issues that may impact planning, help determine a client's health care mindset which impacts how much they spend on health care, and show advisers how to incorporate a client's health status into insurance planning, income planning, and advance directive planning.
Date: May 19th, 2021

Time: 4:00-6:00PM
Location: Zoom Meeting
Speaker: Ross A. Riskin, DBA, CPA/PFS, CCFC, MS Tax
Ross Riskin is an Associate Professor of Taxation and the Director of the CFP and ChFC Education Programs at The American College of Financial Services. In addition to building engaging online education experiences and teaching courses in taxation and financial planning, Dr. Riskin's research and professional expertise focus on tax planning with respect to college and student loan advising. He is also a Partner at Riskin & Riskin, PC and is the Founder of the American Institute of Certified College Financial Consultants (AICCFC).
Dr. Riskin is recognized as a thought leader and expert in the areas of tax planning, college planning, and student loan advising, and he is the author of The Adviser's Guide to Education Planning: 1st Edition, which is published by the AICPA. Dr. Riskin has presented to over 12,000 individuals through webinars, conferences, and in the classroom. He has been quoted in media outlets such as the Wall Street Journal, CNBC, Yahoo Finance, US News, The New York Times, ThinkAdvisor, and Investment News, and has also published in journals such as the Journal of Wealth Management, Journal of Financial Planning, Journal of Accountancy, Tax Notes, and the Journal of Multistate Taxation and Incentives.
In addition to being a CPA/PFS and Certified College Financial Consultant (CCFC), Dr. Riskin received a Bachelor of Science in Accounting degree from Fairfield University, a Master of Science in Taxation degree from Bentley University, and a Doctorate of Business Administration in Finance degree from Sacred Heart University.
Topic 1: Education Planning for the Next Decade: Practical Strategies for Success
Due to the rising costs of higher education, the shift to eLearning, and the impact of COVID-19, clients are relying more than ever on advisors to help them navigate the financial complexities associated with the college funding and financial aid planning processes. In this presentation, Ross will share creative education planning strategies you can use with business owners, high income/high net worth individuals, middle-income individuals, divorced/divorcing couples, blended/non-traditional families, and grandparents as they experience the higher ed revolution first hand. In addition, Ross will also cover relevant changes from recently passed and proposed legislation, and identify trends so you can stay ahead of the curve when planning for the next decade.
Topic 2: Planning for All Generations: What Advisors Need to Know About Student Loans
Federal loans, private loans, subsidized loans, unsubsidized loans, income-based repayment, income contingent repayment, consolidation, deferment, forbearance, forgiveness. Confused yet? These are the terms you need to know as you help your clients navigate the education planning process both before their children go off to college and after graduation. With total student loan debt approaching the $1.7 trillion mark, 6-year graduation rates stagnating at 59%, and higher education degrees becoming the minimum requirement for gainful employment in the country, advisors need to know how to guide and educate their clients to effectively and efficiently plan for college when time is on their side and resources are available, and more importantly, when they are not. In addition, Ross will also cover relevant changes from recently passed and proposed legislation, and identify trends so you can stay ahead of the curve when it comes to advising clients on student loan repayment strategies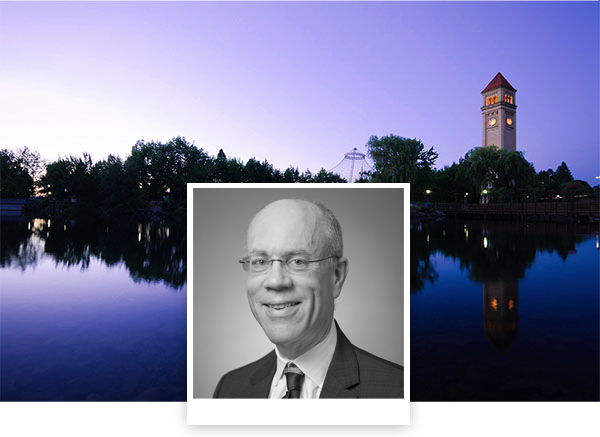 Date: March 17th, 2021

Time: 4:00pm
Location: Zoom Meeting
Speaker: Steve Scranton, CFA
Senior Vice President
Chief Investment Officer & Economist
Washington Trust Bank
BA, University of Washington
Chartered Financial Analyst®, Institute of Chartered Financial Analysts
Topic: A Tale of Two Recoveries
The nature of this recession and the responses that followed from a monetary and fiscal policy standpoint has created a bifurcated recovery. This presentation will provide perspective on how this recovery is not a homogeneous recovery from both an economic and financial markets view. The presentation will include a "current view", an "outlook" view and a "what should we be thinking about?" view. The goal of the presentation is to provide information and perspective to stimulate your thought process and help you in planning for the rest of 2021.
About Steve Scranton:
Steve Scranton is the Chief Investment Officer and Economist for Washington Trust Bank and holds a Chartered Financial Analyst designation with over 30 years of investment and economic experience.

Throughout the Northwest, Steve is a well-known speaker on economic conditions and the financial markets. He also actively participates on committees within the Bank to help design strategies and policies related to bank owned investments.
As Washington Trust Bank's Chief Investment Officer, Steve is responsible for management of the Portfolio Management Group and works closely with clients and relationship managers to design, implement and monitor investment and risk management strategies.
As Washington Trust Bank's Economist, Steve participates in public speaking engagements, as well as authoring many communications, to keep clients and the public informed of economic and investment market conditions.
When: Wednesday, January 20th, 2021

Where: Online via Zoom
Time: 3:00-3:45 pm Board Meeting
3:45-5:00 pm Speaker

Who: David Wolf - President and Owner, Wolf & Associates
Topic of Discussion: Washington Long-Term Care Trust Act of 2019
What is this Mandatory LTC Insurance Payroll Tax?
When do payroll taxes start drawing?
What are the benefits to the coverage?
What is and is not covered?
Are they subject to change?
How do my clients opt-out?
When is the deadline to opt-out?
About David Wolf: David Wolf is the president and owner of Wolf & Associates, a Long-Term Care planning firm in Spokane, WA. Wolf & Associates has specialized solely in Long-Term Care Planning since 1988. David's expertise in Long-Term Care Insurance planning has gained him national recognition in his field. He has been quoted by the Wall Street Journal, Forbes, Money Magazine, and others. His depth of knowledge in the Long-Term Care Insurance industry has made him a recognized leader and speaker. David's practice niche is working with financial advisors to assist their clients in planning for aging, potential frailty, and protecting the ones that they love.